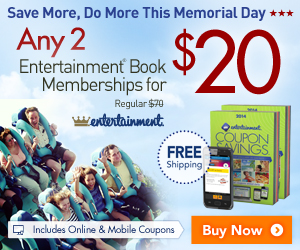 If you still haven't picked up a
2014 Entertainment Book
, here a great deal that is only good for a limited time.
Right now you can
get any 2 Entertainment Books which include online & mobile coupons for just $20 + Free Shipping
. The regular price is $70.
These books pay for themselves in just one or two uses and the coupons are good until the end of the year so there is plenty of time to save!
*Please support this site by using the links provided. Thank-you!
Don't want to miss the Daily Deals, Freebies and More? Subscribe NOW it's free!
Or
LIKE
me on Facebook!